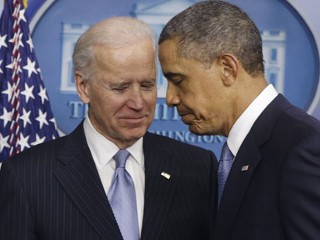 Courtesy of the
Washington Post
:
Most House Republicans voted against the final fiscal cliff deal late Tuesday night, while just 16 Democrats joined them.
A few notes from the votes:
* The bill easily passed 257-167, with 217 votes needed for passage. Democrats voted 172-16 in favor while Republicans votes 151-85 against.
* GOP leadership was split. While House Speaker John Boehner (Ohio) and 2012 vice presidential nominee and Budget Committee Chairman Paul Ryan (Wis.) voted yes, House Majority Leader Eric Cantor (Va.) and Majority Whip Kevin McCarthy (Calif.) voted no.
* Ryan's vote is noteworthy because another major 2016 presidential contender, Sen. Marco Rubio (R-Fla.), was one of just eight senators to vote no early Tuesday morning, as did another potential presidential candidate, Sen. Rand Paul (R-Ky.).
* Other no votes included GOP firebrands Reps. Allen West (Fla.), Michele Bachmann (Minn.) and Joe Walsh (Ill.). West and Walsh lost reelection in November, while Bachmann narrowly won.
So both West and Walsh voted against the bill huh? Well that is part of the reason why they are now EX-House members.
Now as interesting as that was I was kind of fascinated with just WHICH Democrats broke ranks and voted against the bill.
* The 16 Democrats voting no split between the liberal and the moderate. More liberal Reps. Xavier Becerra (Calif.), Earl Blumenauer (Ore.), Peter DeFazio (Ore.), Rosa DeLauro (Conn.), Jim McDermott (Wash.), Brad Miller (N.C.), Jim Moran (Va.), Bobby Scott (Va.), Pete Visclosky (Ind.) voted no. But they were joined by moderate-to-conservative Reps. John Barrow (Ga.), Jim Cooper (Tenn.), Jim Matheson (Utah), Mike McIntyre (N.C.), Collin Peterson (Minn.), Kurt Schrader (Ore.) and Adam Smith (Wash.).
These sixteen bear watching in the future, and I hope their constituents are paying close attenion to how carelessly they treat the fiscal security of this nation.
So that is how the vote played out in the House, but when the dust settles WHO got their ass handed to them the worst?
This again according to the
Washington Post
:
The bill was 153 pages long. It was written only the day before, by Washington insiders working in the dark of night. It was crammed with giveaways and legislative spare parts: tax breaks for wind farms and racetracks. A change to nuclear-weapons policy. Government payments for cheese.
And, most significantly, the bill will raise taxes but do relatively little to cut government spending or the massive federal deficit.
To a tea-party-influenced crop of House Republicans, the bill to resolve the "fiscal cliff" crisis was everything they had wanted to change about the way Washington worked. Too rushed. Too bloated. Too secretive. Too expensive.
"There's lots and lots of pork in this bill," said Rep. Darrell Issa (R-Calif.), one of its most outspoken opponents.
On Tuesday, however, it passed on their watch. After the Senate approved the compromise, it briefly appeared that the GOP-led House would rebel against the bill. But the threat faded: For many Republicans, it appeared, the risk of rejecting the bill — and courting economic calamity — outweighed their unhappiness with the bill's contents.
Here is how jaded I have become over the political process in Washington these days. I fully expect my side to be screwed over anything that gets through both houses. I am just happier when the Right Wing gets fucked harder than we do. (Especially that prick Darrell Issa!)
You know it's the little things in life.
By the way purely to get a sense of who would or would NOT vote for this bill and why, I checked how my two Senators and lone Congressman voted. Believe it or not, they ALL THREE
voted for the bill
.
Oh and speaking of winners and losers, I just saw on MSNBC that President Obama boarded a plane to rejoin his family to finish out their vacation.